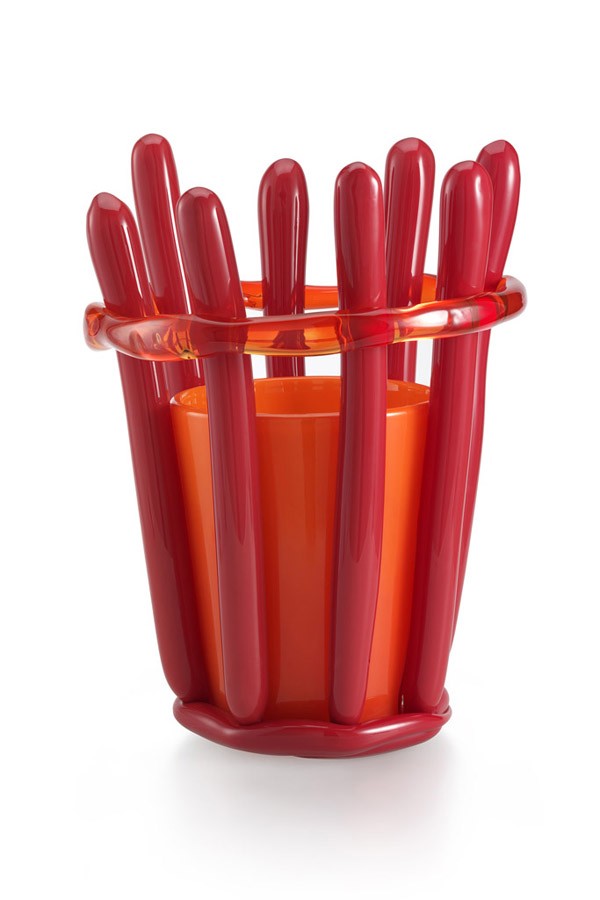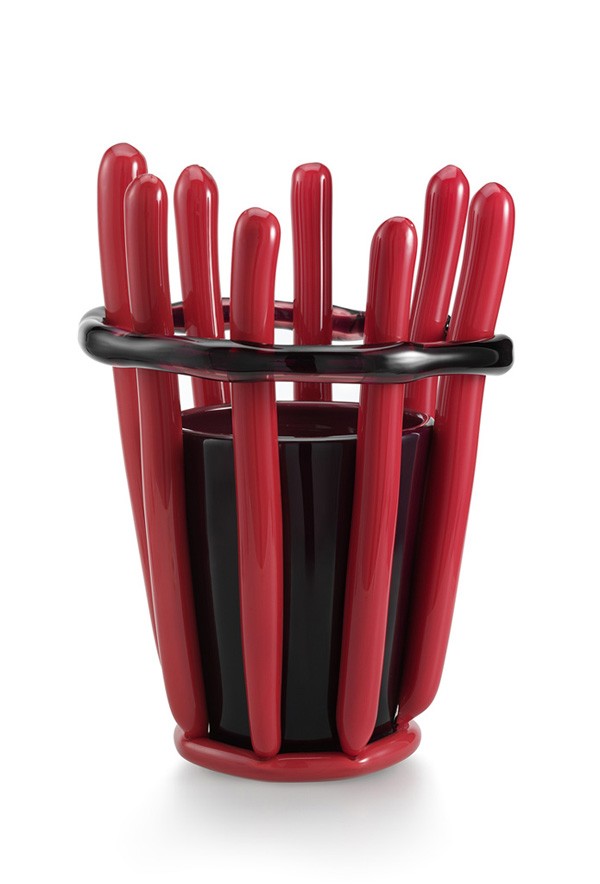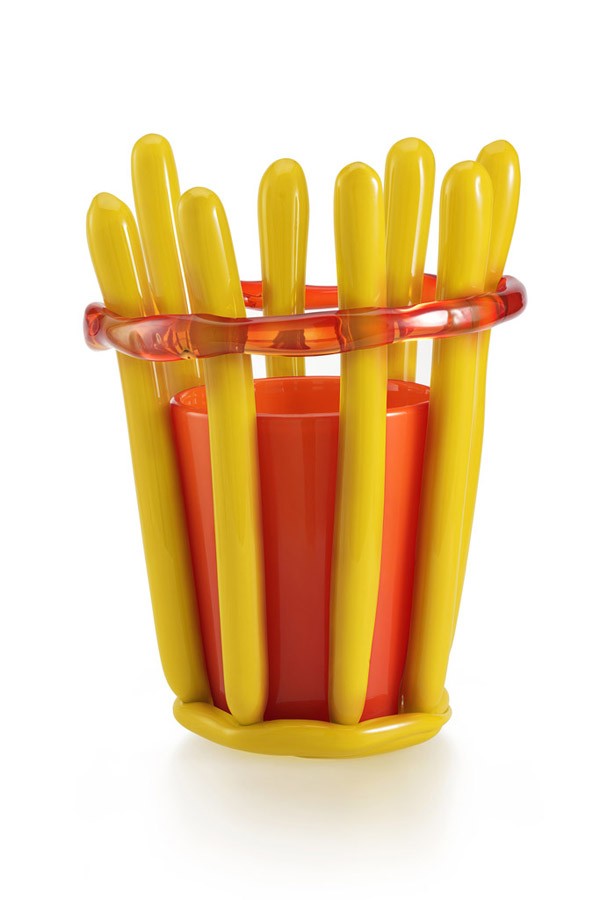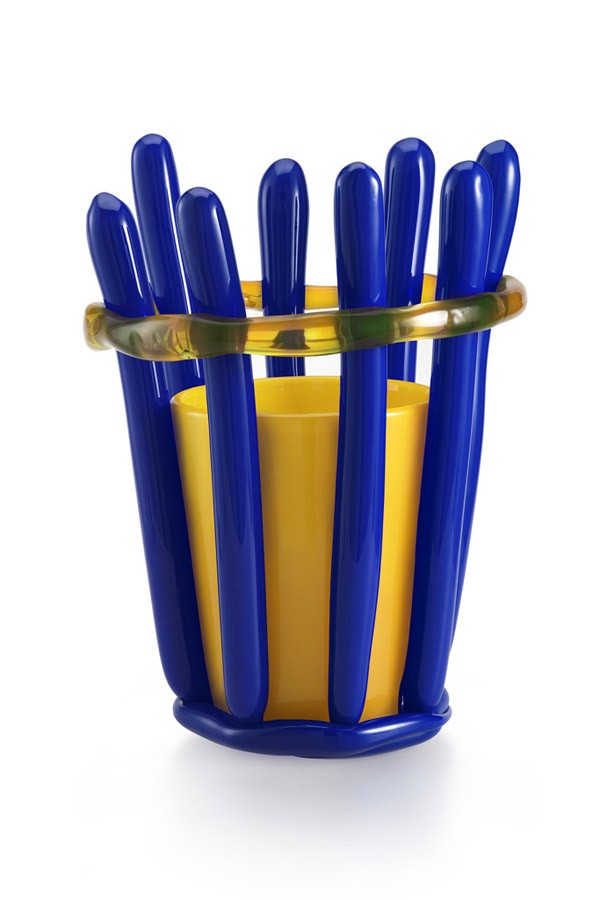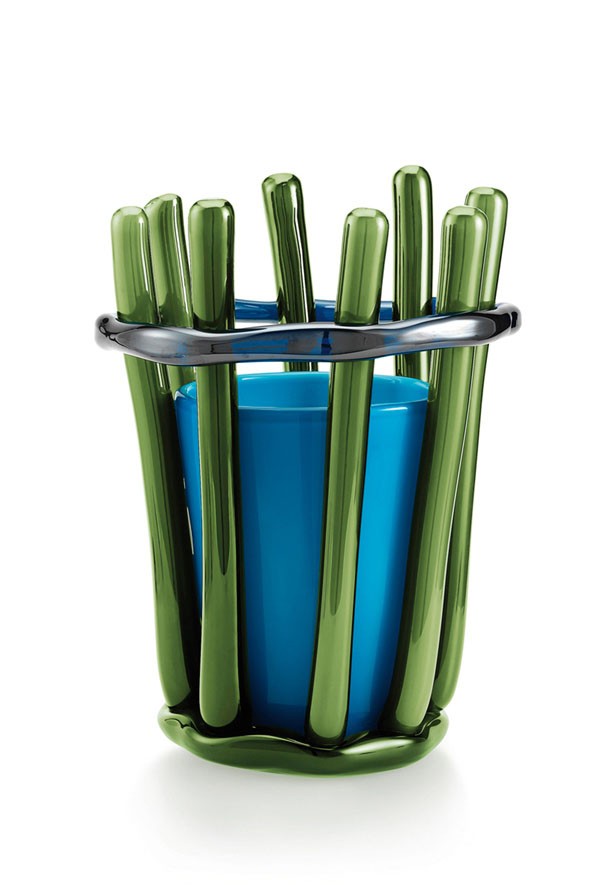 bambù, venini 2006 ©elena cutolo

Vetro soffiato con corpo centrale in opalino e decori orizzontali e verticali applicati a caldo.
Edizione limitata in 9 esemplari per variante di colore.
Ø cm 29 h cm 38
arancione/corallo
viola/corallo
arancio/giallo zolfo
giallo canarino/zaffiro
acquamare/verde antico
Vietnam: il mio primo viaggio in Oriente. Tra i ricordi, l'immagine di stupefacenti strutture di bambù, 'maxiceste' che inglobano l'edificio o il grattacielo in costruzione svolgendo la funzione dei 'nostri' ponteggi di tubi innocenti. Ma mentre questi ultimi sono manifestamente rigidi, le meravigliose strutture orientali sembrano flettersi e oscillare, come se per le canne di bambù il modo migliore per sorreggere l'edificio fosse assecondare flessuosamente l'incerto soffiare del vento.
Così è nato il vaso Bambù: un corpo interno rigido, il vaso per l'acqua, protetto e sublimato da una struttura di canne di vetro che variano a seconda del soffio del Maestro vetraio.
__________________________________________________
Blown and handmade glass with a fixed central opal and hot applied horizontal and vertical decoration.
Limited edition of 9 specimens for each colour.
11.43"-14.97"
orange/coral
violet/coral
orange/sulphur yellow
yellow canary/sapphire
aquamarine/green old
'Vietnam: my first trip to the Far East. Among my memories, the image of amazing bamboo structures, 'mega-baskets' enclosing buildings or skyscrapers under construction, acting as the equivalent of 'our' innocent tube scaffolds. But while the latter are patently rigid, the wonderful oriental structures seem to flex and oscillate, as if, according to the bamboo reeds, the best way to support a building were to pliantly follow the capricious blowing of the wind. This is how the Bambu vase was conceived: a rigid inner body - the vase to hold water - protected and glorified by a glass reed structure, changing shape according to the fanciful glassblower.'
©elena cutolo architetto