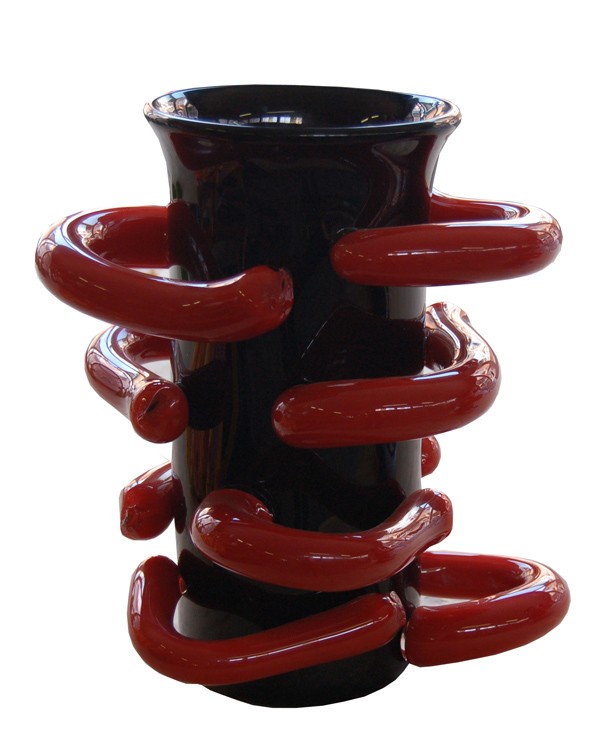 masai, venini 2008 ©elena cutolo

Vaso in vetro soffiato nero con cordoli applicati a caldo in vetro rosso.
N.1 Prova d' artista
Firma incisa: Venini 2008 P.d.
Ø cm 34 h cm 37
Asta 68 Solo Venini
Prove d'Artista e Vetri da Collezione
Casa d'asta Porro&C.
22 Maggio 2012
Masai è Africana, ed ha un amore smodato per l'ornamento.
Una lontana cugina Samburu, ha molte collane di vetro rosso ricevute in dono dai suoi giovani spasimanti.
Una lontana cugina Rendille, ha molte collane di vetro impregnate di ocra rossa.
Oggi, il caso ha voluto che Masai, pensando alle sue lontane cugine, si sia agghindata con collane solo di vetro rosso per comunicare il suo messaggio di bellezza e seduzione.
__________________________________________________

Handmade black glass vase with reds curbs hot applied.
13.38"x14.56"
Masai is from Africa, and has an excessive love for ornaments.
Her distant cousin Samburu, possesses many red glass necklaces received as a gift from her young admirers.
Her distant cousin Rendille, has many glass necklaces impregnated with red ocher.
Today, by chance, Masai while thinking of her distant cousins, is decked out with red glass necklaces just to communicate her message of beauty and seduction.

©elena cutolo architetto