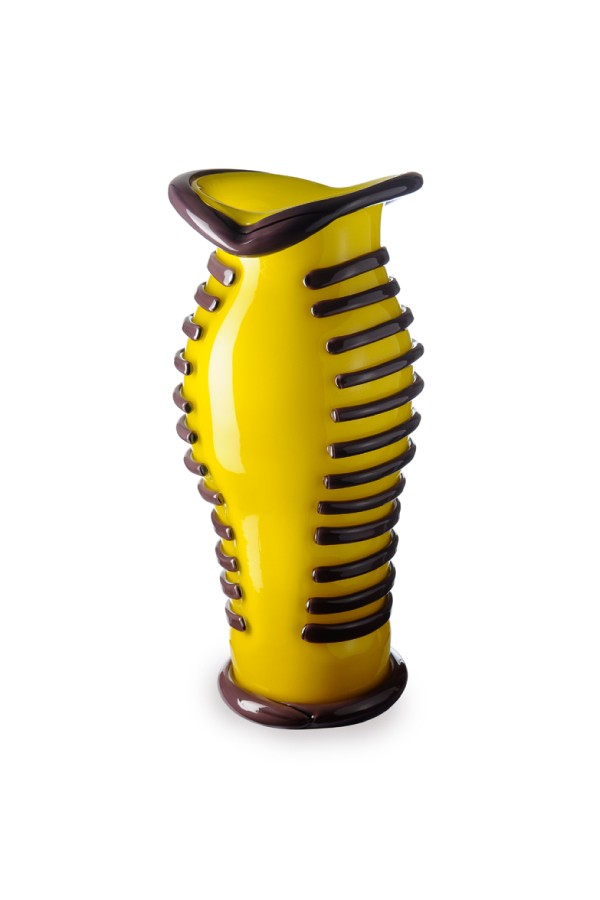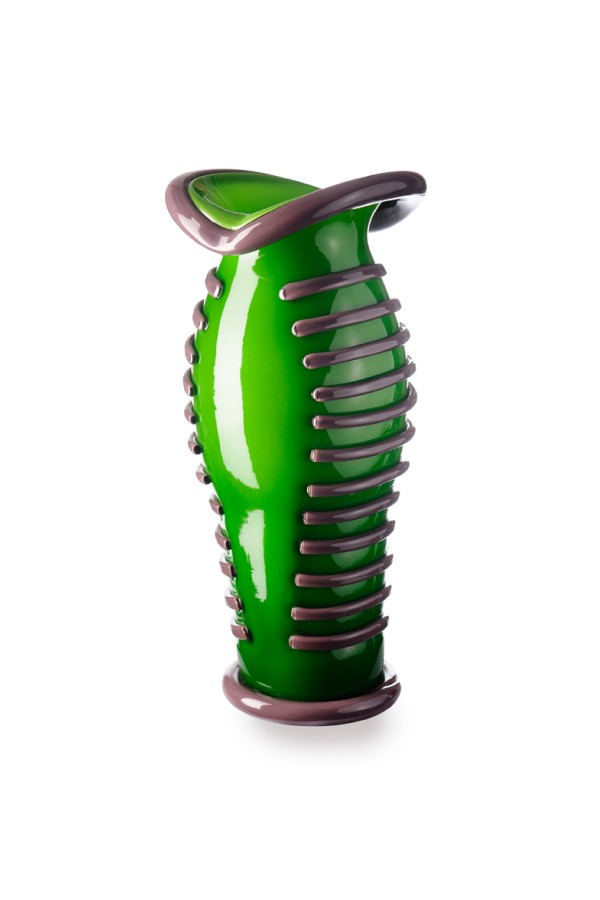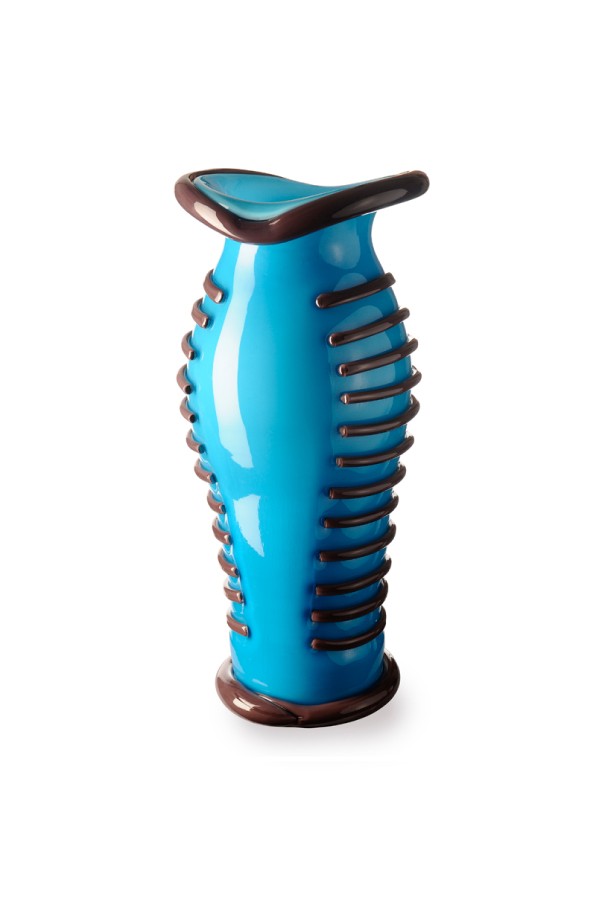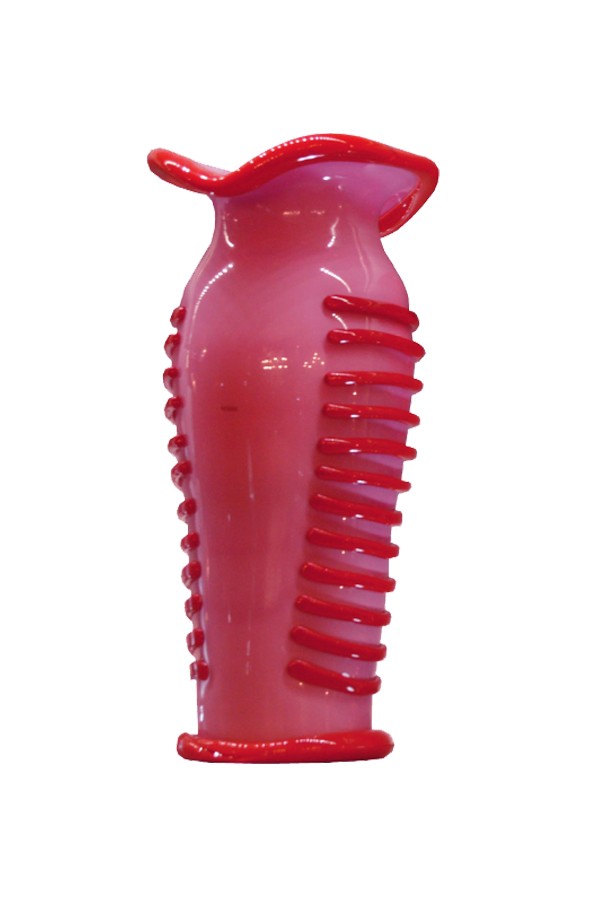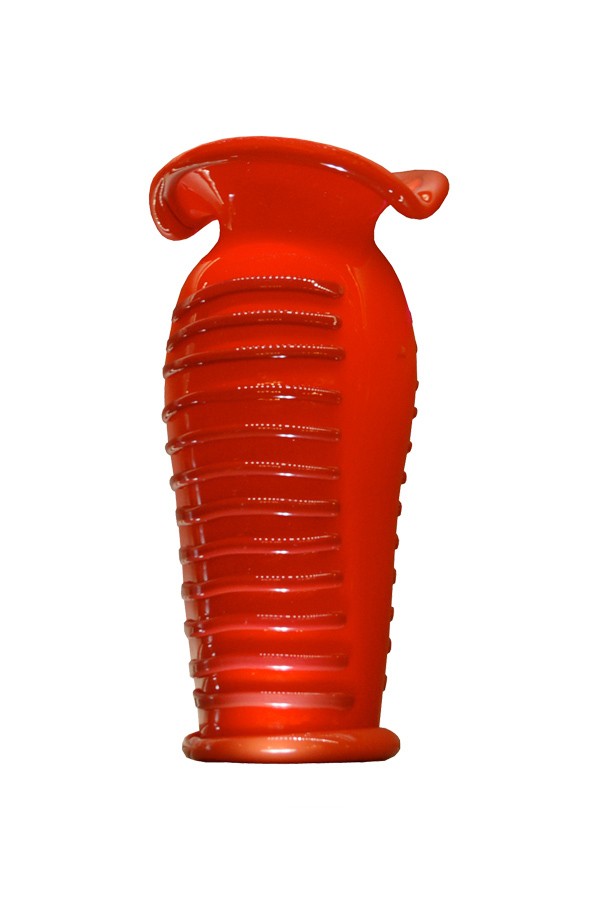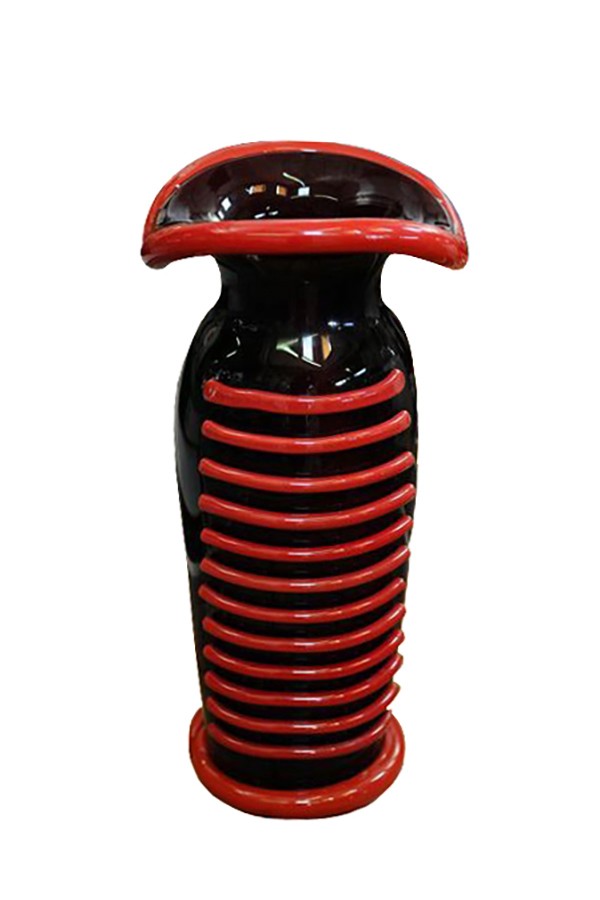 musa ornata, venini 2009 ©elena cutolo

Vaso in vetro soffiato e lavorato a mano con decori applicati a caldo.
Edizione Limitata in 3 esemplari
arancio/corallo
rosa/corallo
viola/corallo
Edizione Limitata in 19 esemplari
giallo canarino decori viola
verde erba decori viola
acquamare decori viola
Ø cm 22 h cm 42
La Musa Ornata appare vestita di nobilissimo e colorato vetro opalino. Cinta da cordoli, ha un collo lungo ed una bocca grande e sinuosa.
1983, Sicilia, Palermo. Una festa a Palazzo Ganci-Valguarnera (XVIII sec.), lì dove Luchino Visconti aveva girato nel 1963 la famosa scena del ballo de Il Gattopardo.
Ricordo la sala Rococò siciliano con le boiseries dorate, le consoles e le specchiere Luigi XV, i lampadari e le appliques di Murano i due grandi pouf di velluto verde mirto.
L'atmosfera di quella sera rivive nella Musa Ornata, che entrando nella sala specchiata ne rimane, indelebilmente, abbagliata.
__________________________________________________
Handmade opaline glass vase with hot applied decorations.
Production Limited in 3 art pieces
orange/coral
pink/coral
violet/coral
Production Limited in 19 art pieces
canary yellow decorations violet
grass green decorations violet
aquamarine decorations violet
8.66"-16.53"
The Musa ornata appears dressed in noble and colorful opal glass. Surrounded by curbs, has a long neck and a big and sinuous mouth.
1983, Sicily, Palermo. A party at Palazzo Ganci-Valguarnera (XVIII cent.), where Luchino Visconti in 1963 shot the famous dance scene of the movie Il Gattopardo (The Leopard).
I remember the room with the Sicilian Rococo gilt wood paneling, consoles and mirrors Louis XV chandeliers and Murano wall sconces two large myrtle-green velvet ottomans.
The atmosphere that night lives in Musa ornata, which entering the room mirror remains, indelibly, dazzled.
©elena cutolo architetto